Sustainable actions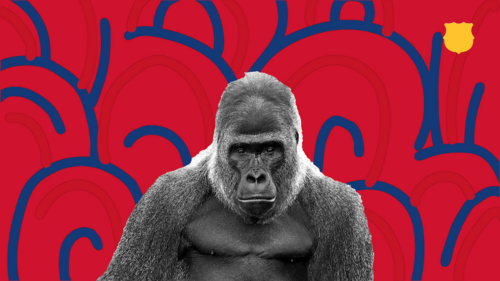 Collectibles
Emilio Romeo bought a collectible
Gorilla from Africa #26
6 months ago
Customize your Jersey for Free: As a collector of our special digital items, you not only possess a piece of football history but also enjoy the privilege of customizing your jersey at no additional cost at any official FC Barcelona store.
Collection
Plastic Credit

Emilio Romeo supported a roadmap

Mombasa Ocean Festival

6 months ago

The MOF seeks to educate the community about ecological threats to our precious marine environment and the ways in which we all can better protect these environments.

Vintz & Rintz will team up with the Alliance Française* to raise awareness about the importance of sustainable ocean management and the dangers of plastic pollution to the local community.

During this week, we will participating of dfferent educational activities:

- Environmental awareness workshops in public schools in Mombasa
- Scientific day on the theme of Marine Aquaculture
- School visits at Kmfri (Children meets scientists)
-The Festival comes to Mburukenge (Tudor) – Community clean up, exhibition, open air screening
- Plastic art School Challenge with 15 schools (private and public)
- Visual Art Exhibition – recycled art
- Ocean Art Day on Saturday 10th of June (art activities for kids/parents)

Vintz & Rintz will be part of the: PLASTIC ART SCHOOL CHALLENGE

The aim will be to inspire innovation and educate students in participating schools on plastic pollution. Teachers from participating schools will be invited for a training session on plastic recycling and encouraged to share their knowledge with the students.

Rintz will be bring its technical support by donating box of recycled materials of different colours and shapes, which the group will use, to create a sculpture, collage etc… on the theme of "Ocean" and intervene in the workshops in the different schools in which the students will be taken through a workshop to create functional items (pencil holders, flower pots, packs) through single use plastics (bottle tops, plastic straws...). The workshops will also include a collective work of art made by the students using plastics, which will be displayed in the schools to commemorate the event.

SCIENCE TALKS: MARINE AQUACULTURE

In order to include a scientific component in the programming of the Mombasa Ocean Festival, we will collaborate with the Alliance Française and be part of scientific discussion on marine aquaculture. Local and international academics, researchers and stakeholders in the private sector will interact and present their work/research.

The Alliance Française de Mombasa was founded in 1975. It is a local non-profit educational and cultural organization supported by the French Embassy whose mission is teaching the French language, promoting cultural diversity and developing partnerships between France and Kenya.


Recovery project supported
This is where I proudly display all of my sustainable actions, whether it's collaborating with recovery projects, supporting campaigns, or purchasing collectibles that make a difference.
Types of plastics supported